***TOP 10 BOOK***
20.11.17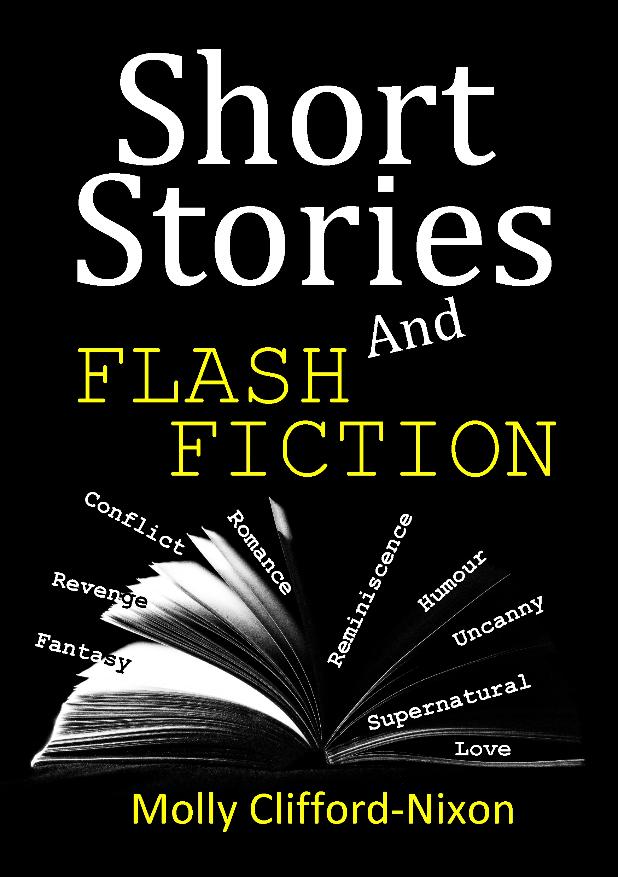 Published October 2017
Will Timomathon survive the war raging within Infinity to be able to return to Humanland? Will Anna escape justice when she seeks revenge for the death of her husband? What type of justice does she fear? Journey from the expected to the unexpected, the natural to the supernatural. Decide whether there is a logical explanation. Laugh at the humour, shed a tear at the sorrow, ponder at the reflections and, on occasion, let your mind leave reality behind.
December 2021
https://literarytitan.com/category/literary-titan-book-award
https://literarytitan.com/2021/11/25/short-stories-flash-fiction

The Silver Award is bestowed on books that expertly deliver complex
characters, intricate worlds, and thought provoking themes. The ease with which the story is told is a reflection of the author's talent in exercising fluent, powerful, and appropriate language.
Short Stories & Flash Fiction, by Molly Clifford-Nixon, is comprised of twenty unique stories that vary in length, from super short (flash fiction) to longer stories. Each story brings about new characters that take the reader on an interesting journey.
The book begins with a fantasy story called "Infinity" that transports the reader to the world of Infinian. Timomathon, the main character in this short story, grapples between saving his realm or being with his humanland love. The next short is "Dear Diary" which humors the reader with a mother's account of her day. "Valentine's Day" is a sad short story about a man visiting his wife's grave. This short story was one that stood out to me because in only two pages the main character has so much depth. He spent every penny on treatment for his wife, and even after her passing, he still spends what little he has on a red rose for her on Valentine's Day. "Snow White- An Alternative Ending" was another humorous read that involved deceiving the Prince into marrying Snow White. In this short, the dwarfs know of Snow White's true nature and the Prince believes her to be the woman he is to spend his life with. After the wedding ceremony, Snow White reveals her true colors and the dwarves live happily ever after, even though the Prince may not.
Author Molly Clifford-Nixon has a very fluid writing style. The author has a fantastic ability to create compelling characters and intriguing plots that differ from story to story, but in any length the characters have surprising depth. The book is an interesting blend of humor, fiction, grief, and surprise all wrapped up in one.
Short Stories & Flash Fiction is a fantastic book to keep on hand for those short bus stops or waiting in line. I would recommend this book to anyone who is looking for an imaginative collection of short stories with varied storylines and interesting premises.
BookView Review (USA)
https://bookviewreview.com/2021/11/25/bookview-review-short-stories-flash-fiction-by-molly-clifford-nixon/
5 Stars
Clifford-Nixon looks at love, loss, relationships, mortality, morality, grief, pain, revenge, and redemption in her latest, a collection of short stories. Most of the pieces in the volume have a similar theme: regardless of what stories are apparently about, at the core, they are about loneliness, deception, and loss. Subtle and witty, "Dear Diary," is a standout, mainly because it feels so relevant and timely. In "Wishful Thinking," a berated wife gets her wish granted unexpectedly. The heartbroken protagonist gets sweet revenge in "On Reflection." Clifford-Nixon writes about human drama, interpersonal interactions, and relationships with subtlety and precision. The wife in "Mirror Mirror" is yearning for understanding and care, unaware of the tragic fate awaiting her ahead. The unsettling ending in "A Logical Explanation" is evocative of the slim, beckoning veil between the natural and the otherworldly, between the seen and the unseen that Clifford-Nixon swings throughout her collection. Almost all of the stories have an eerie quality, many of them with eerie images: a dead woman comes back to life just to rearrange her affairs; a computer programmer unintentionally unleashes a deadly paranormal virus on the world. But as unsettling as these stories can be, Clifford-Nixon also delves into the intricacies of marriage and relationships. Dark, unsettling, and subtle, the collection makes for a must-read.

(USA)
https://readersfavorite.com/book-review/short-stories-and-flash-fiction
4 out of 5 Stars
Reviewed by Jessica Barbosa for Readers' Favorite
Short Stories and Flash Fiction by Molly Clifford-Nixon is an anthology of stories and flash fiction with varying genres. The twenty stories range from a domestic setting to a fantasy setting. From an elf king trying to do his best to save his people but unable to forget his human love to a suspenseful mystery that will raise the hair at the back of your neck. Immerse yourself in different plots, experience various places, and shed a few tears or sighs with wistfulness in Molly Clifford-Nixon's Short Stories and Flash Fiction.

Molly Clifford-Nixon has created a collection of stories that grabbed my attention from the very first page. Each tale is unique in its premise and idea. Clifford-Nixon puts a lot of thought into the different stories, giving us eccentric but vivid scenes. The tales are fast-paced, and I found myself constantly intrigued and surprised by what came next. This collection of Short Stories and Flash fiction is perfect for those who are looking for a quick but exciting read. I never knew what to expect in the next chapter, and the intriguing titles for each story just pulled me in. Aside from short stories and flash fiction, some diary entries or letters gave a glimpse into the characters' lives.

I was impressed by these changes in points of view. Although they were barely two pages, they told an entire story all on their own. Clifford-Nixon's stories stand out in their themes, genre, and plot possibilities. I could not predict where each story would go, making me look forward to the next story each time. Overall, I found Short Stories and Flash Fiction by Molly Clifford-Nixon to be inventive and filled with one-of-a-kind tales that kept me intrigued right to the end. Good job!
Amazon.com
Travis Poole
5.0 out of 5 stars Great little collection of short stories
Reviewed in the United States on January 1, 2020
I absolutely love anthologies and this book is a great example of why. Some stories I thought were great, some were sad, some were funny and a few i did not understand at all. Everyone is different so the ones i did not understand someone else might think they are the best stories ever. The End of Day and Snow White-An Alternate Ending were my favorites. I actually read End of Day a few times because I enjoyed it so much and it was short. You might laugh or cry but you are probably going to find a story you like.
January 16, 2019
An interesting and entertaining collection of short stories sure to please!
Format: Kindle Edition
Short Stories and Flash Fiction by Molly-Clifford Nixon was an amazing and eclectic collection of tales that were engaging and intriguing. Some were funny, some were sad, some made you wonder, and some were out of the realm of reality - which made them all the more entertaining. I highly recommend you give this awesome collection of stories a try - you won't regret it!
Amazon UK
28 February 2018
Format: Paperback Verified Purchase
Fabulous very eclectic range of short stories and prose. This Author has a vast imagination.
5.0 out of 5 stars Well Written and Varied Collection of Stories.
7 February 2018
Format: Kindle EditionVerified Purchase
A well written and very varied collection of interesting stories. An ideal book for dipping into, with a choice of story-lengths and a wide range of subjects, including favourites such as "Valentines Day" and "Christmas," and the laugh-out-loud funny "Knick-Knack Emporium".
4 out of 5 Stars Unusual.
By Miss H.C.Birrell on 3 December 2017
Format: Kindle Edition |Verified Purchase
Well written, but strange story lines.